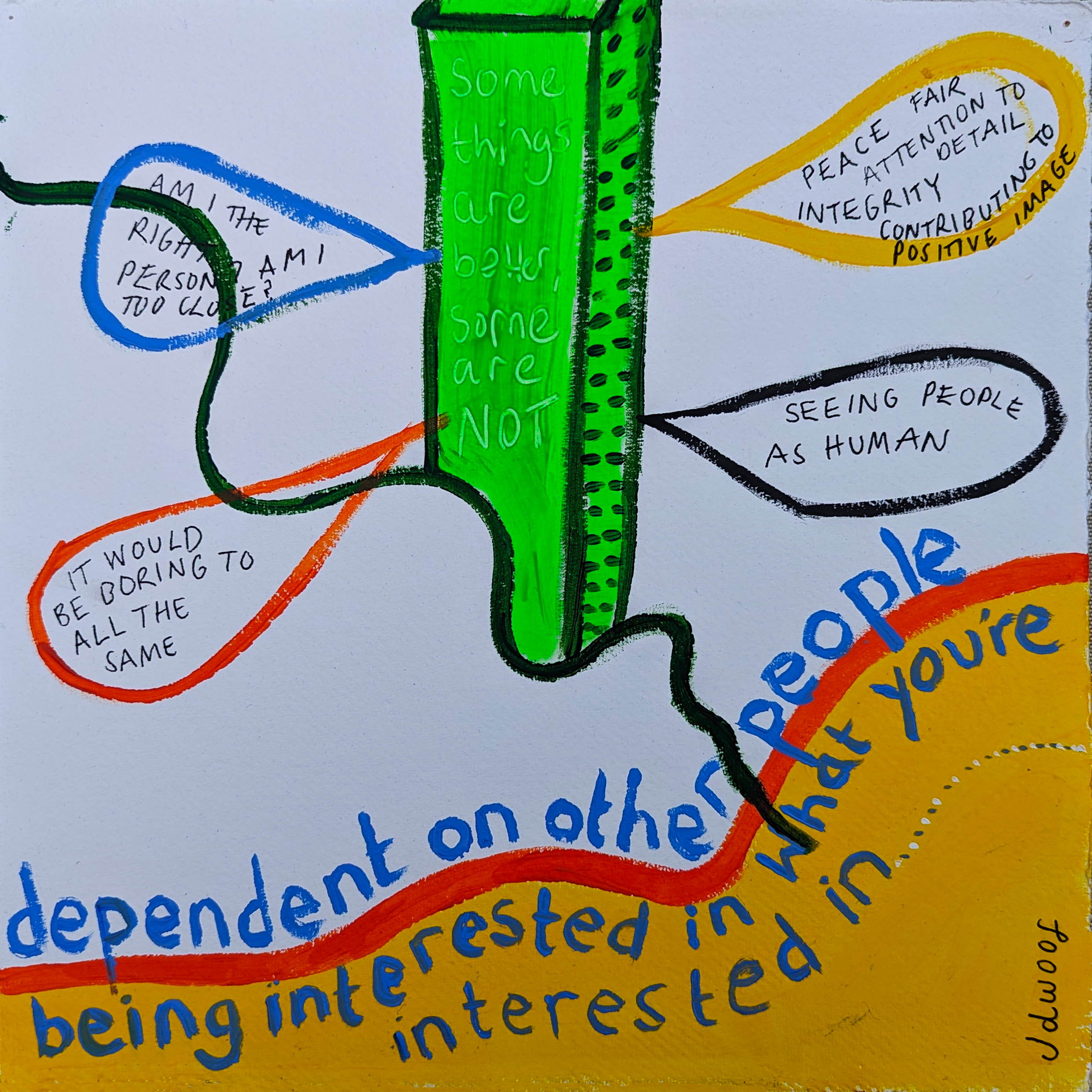 In January 2023 I started a conversations project during my residency at Applecart Arts. I sit down and have a conversation of approximately one hour with someone I am interested to have a conversation with. Whilst there might be particular things I am interested in, I don't have questions planned in advance and what happens is organic. Whilst we talk, I paint. What I share here is the painted/drawn outcome of the conversation. Afterwards, I write up my reflections which come from the conversation. Then, they go into my gallery of conversations, which you have found yourself in here…
Joan Tardiel has been working at Applecart for the past five years as Centre Coordinator. She helps the running of the organisation as well as finding ways to help enable different community projects to happen in relationship to Applecart. We hadn't had a longer chat before this day and I really valued the opportunity. 
As I mentioned in the reflections on my conversation with Peter, there always seem to be so many projects going on at Applecart. Proposals being written, meetings being held and ideas for community projects being discussed. There are frequent theatre productions taking place which have short cycles. Rooms are hired by different groups. Studios upstairs are being rented by artists and a local composting group. Parts of the building are still being renovated. When I chatted to Joan, her and Grace were in the process of painting their office space and she was also talking about how they were looking into providing TESOL classes for refugees, at Applecart.
She said that an important part of her role is to decide where to put time and energy, as well as experimenting and improvising and adapting based on what is working/not working out. I could relate to this as since leaving my employed role at the end of the year, I feel like there are an amazing and overwhelming number of opportunities for me to put my resources into. Often when I am in Applecart I think about how I couldn't work in an organisation like that, always growing and expanding and looking for more opportunities, as I can find it overwhelming and exhausting. But as I write that, I realise that is pretty much what I've been doing, on a smaller scale, by going freelance.
She also described how when choosing what to put time and other resources towards, it requires other people's interest and support. This got me thinking about a theme that has featured throughout these conversations so far, about what people are really fascinated by and how they can (or can't) follow their awe and wonder and how this can be hindered when we are more reliant on others.
I asked the question I've been asking everyone so far, about what is important to her. Joan described her values in doing work, about fairness, attention to detail, contributing to the positive image of Applecart, celebrating difference and peace. She also talked about how important she thinks it is for people to be able to engage in dialogue and how quickly violence seems to happen without it. This reminded me of why I am so interested in conversations and communication and getting to our needs, met and unmet in any given moment, to help us connect with each other better. I have loved that from these conversations, particularly in the way that me painting and us having no particular agenda seems to help people open up and share more than if we catch each other for a moment and make very brief small-talk.
---