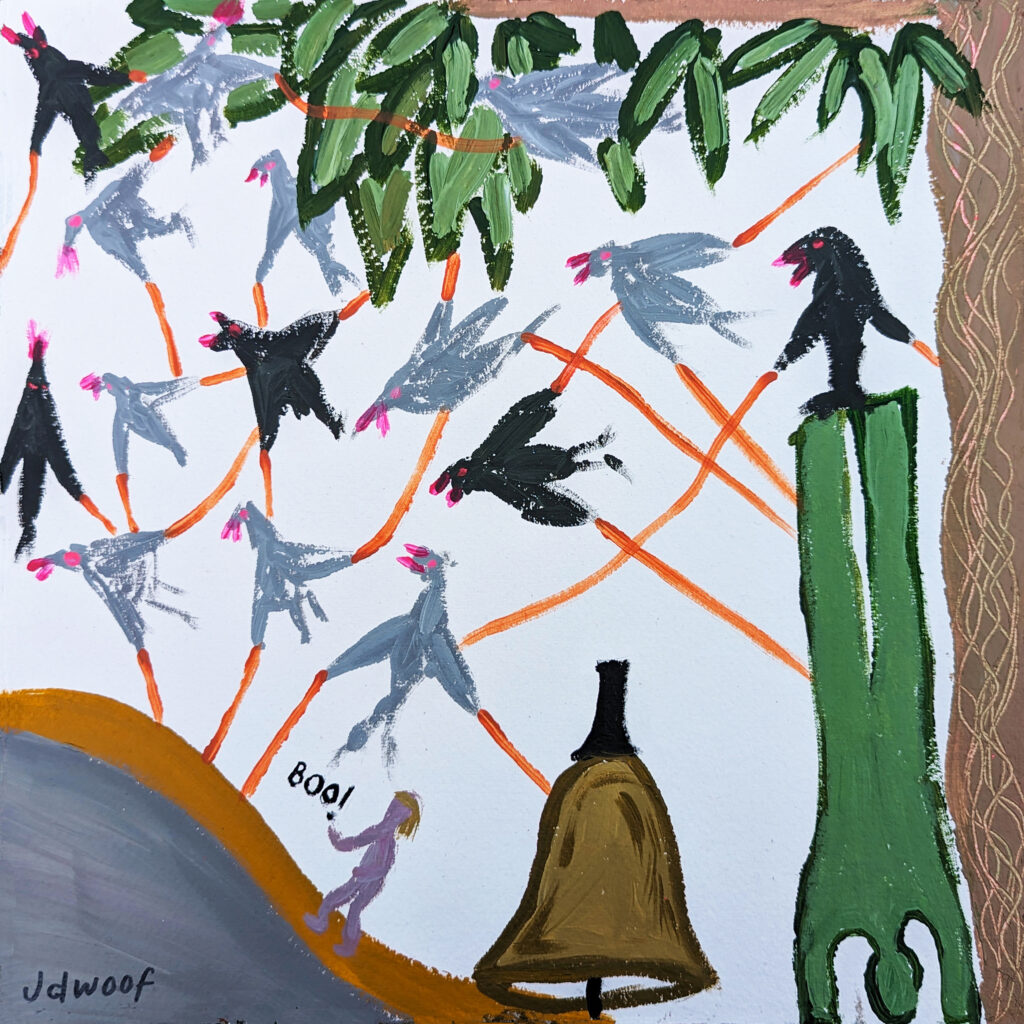 In January 2023 I started a conversations project during my residency at Applecart Arts. I sit down and have a conversation of approximately one hour with someone I am interested to have a conversation with. Whilst there might be particular things I am interested in, I don't have questions planned in advance and what happens is organic. Whilst we talk, I paint. What I share here is the painted/drawn outcome of the conversation. Afterwards, I write up my reflections which come from the conversation. Then, they go into my gallery of conversations, which you have found yourself in here…
Jackie Withnall is a storyteller, mentor, ex headteacher, immersive theatre practitioner and much more! She got in contact with me through an Applecart instagram post, where I was looking to find more people to chat to who are based close to Plashet Park.
It turned out she had a long history with the park, as she worked for 26 years at a local school as teacher and later headteacher and would sometimes take kids their, for example for sports day. Apparently there used to be a small zoo there! As we were sitting outside Applecart, I could see kids playing cricket and having P.E lessons whilst she described this.
Her storytelling skills became clear very quickly during our chat, and I got the treat of settling in to listening to her talk about some of her own story, whilst I painted. I loved hearing about different parts of her life in areas of Newham, Essex and London.
She told me about particular characters and stories which happened over the years, including a playful headmaster who did strange things (like stand on his head in school assembly) and a fire which took place at her school when she was headteacher, and the lingering effects of that. It suddenly brought a memory back to me of being at my junior school and the fire alarm going off and when I went outside with my class, a member of staff walked past ringing a bell really loudly. She looked scared and serious and was ringing the bell very vigorously. I realised it wasn't a fire drill.
Jackie told me how much she loves cafes and how they are an important part of every excursion she takes, on her own, with her granddaughter or with friends. I said I like them because they can be a way of spending time around people, without actually being with them, if I don't want to be alone but also don't want to make plans. She said she found that interesting and maybe that was part of it for her, too.
At the end of the conversation, I marvelled at how I've had conversations like that – learning a lot about each other and sharing quite personal things – with people who I've never met before. I am interested in the ways we must have helped each other feel more comfortable and able to talk/paint/sit together. This conversation really reminded me about what I'm learning in a course I'm currently on, regarding how humans are wired for connection. In Jackie's work, in how we connected, in our shared love of cafes, in her history with the area and with so many people.
---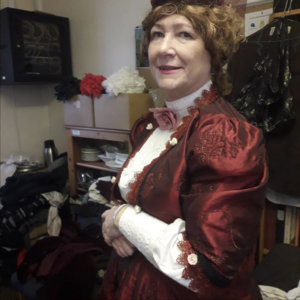 If you'd like to follow Jackie on twitter, head here, or to enjoy her love of cafes, head to her instagram here.